Gutter Protector Extreme
The Ember Attack Resistant Gutter Guard
Made From Silicone Mesh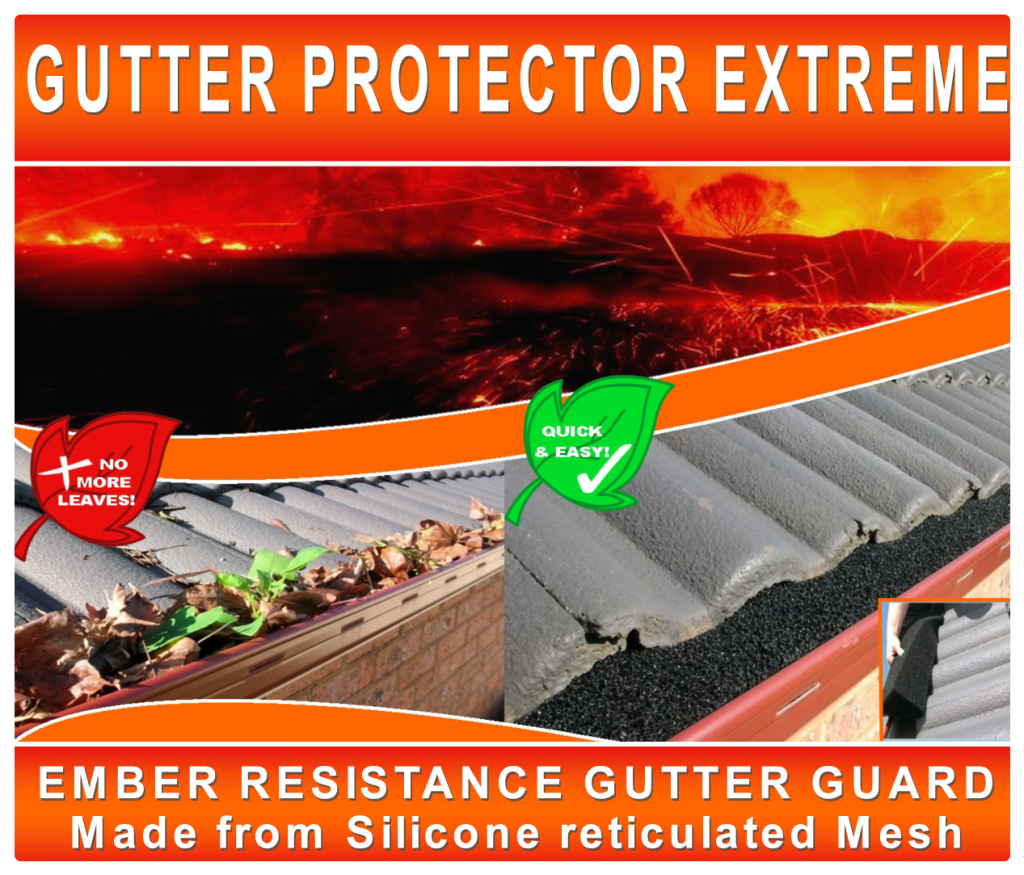 THIS PRODUCT HAS BEEN SPECIFICALLY DESIGNED FOR BUSHFIRE AREAS, HEAVILY TREED AREAS AND TO SURVIVE UNDER THE HARSH AUSSIE SUN, SO IT CAN ALSO BE USED IN NORMAL SUBURBAN ENVIRONMENT WHERE YOU WANT MAXIMUM LIFE FROM YOUR GUTTER GUARD.
GUTTER PROTECTOR EXTREME IS THE FIRST SILICONE MESH GUTTER GUARD AND COMES WITH A 15 YEAR WARRANTY. IT'S EASY TO INSTALL AND REMOVE, NO NEED FOR DRILLING, SCREWS OR GLUES. IT IS THE PREMIUM OF ALL GUTTER GUARDS AND WE ARE THE EXCLUSIVE AUSTRALIAN DISTRIBUTOR OF GUTTER PROTECTOR EXTREME.
The Science Behind Silicone mesh & its Benefits

What is silicone
What is Silicone Made of:
Silicone is made of sand, food-grade silicone is a non-toxic polymer mostly made from silica, aka sand!Its oxide form, known as silica or quartz, is dirt-common. In fact, it is dirt: Almost all kinds of sand, clay and rock contain silica in one form or another, and overall more than half the Earth's crust is made of silica. Industrially, silica is converted to pure silicon by heating it with coke (the form of coal, not the drink) in a furnace.
Heat and Flame Resistance:
Fundamentally, the heat and flame resistance is due to the highly stable chemical structure of silicone. More specifically, silicone has a backbone which consists of repeating units of siloxane bonds (alternating silicon and oxygen atoms) that are tightly bound together. It is this highly-stable formation that is partly responsible for the extreme heat and flame resisting characteristic of silicone.
Weathering Resistance:
Silicone rubbers have exellent weathering resistance. Under the ozone ambience that are due to corona disgarge, normal organic rubbers deteriorate tremendously, but silicone rubbers remain almost unaffected. Even under long term exposure to ultraviolet and weathering, their properties remain virtually unchanged.
FULL BENEFITS OF SILICONE GUTTER GUARD MESH
Highly resistance to damage and degradation from extreme temperatures
Resistance to ember attacks (will not ignite from ember attacks)
Doesn't harden, crack, peel, dry out, rot or become brittle over time from exposure to uv rays and other elements
Flexible and durable
Non-toxic
Hygienic and hypoallergenic, will not harbor bacteria, mold, algae and the growth of seeds
Safe to use with the collection of drinking water as it is made from food grade silicone
Gutter Protector extreme Gutter Guards comes with a 15 year warranty
Bushfire Attack Level (BAL)
Gutter Protector Extreme does not officially meet any BAL
bUT HAS PASSED